Outdoor Liminaires Led Driver
Met wereldwijde productienormen en verschillende certificeringen, waaronder CE, UL, FCC, TUV en SAA, worden onze led-driverproducten op de binnenlandse markt verkocht en geëxporteerd naar verschillende internationale markten, waaronder de VS, VK, Frankrijk, Duitsland, Australië, Afrika, Korea, enz. Wij bieden een breed scala van LED-verlichting energie-oplossingen, waaronder LED-straatverlichting of -systeem, LED-Lams, LED-lineaire enz. Tegelijkertijd Energie besparen en de schoonheid van uw werkplek-aandrijving maximaliseren door ons ontwerp Schakelvoedingsbron!
Ons Constant Current LED-verlichtingsvoedingsbereik biedt stromen van 100mA tot 8000mA; terwijl het LED-verlichtingsvoedingsbereik met constante spanning begint bij 12V tot 48V.
Beide soorten LED-verlichting voeding bieden hoge rendementen, PFC, zijn beschikbaar met Klasse P Input; IP-waarden tegen stof en vocht van IP20 tot IP67 en bescherming tegen kortsluiting, overspanning, overbelasting en te hoge temperaturen. Met extra opties zoals instelbare uitgangen en PWM-, 1-10V-, Resistive- of triac-dimfuncties.
Meeste toepassing : led-straatverlichting , buiten voor waterdicht,
Voordeel : high power led driver, veiligheid en stabiliteit, hoge druk test bescherming, kortsluiting bescherming, anti-bliksem sterk, veilig niveau certificering, UL TUV FCC, etc. certificering.
Parameter:
Invoer ovltage: 100-277V
Uitgangsspanning (ander bereik): 24-38V / 30-42V / 36-54V / 45-76V / 72-143V
Huidige: 100-5000mA
Arbeidsfactor:> 0,95
THD: <15%
Dimmen: 0-10V / PWM / RX
Behuizing: aluminium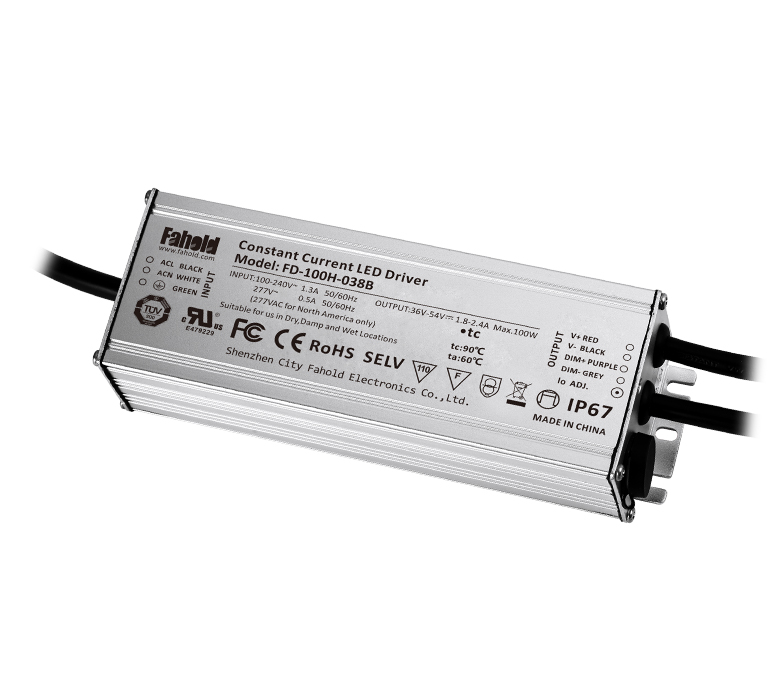 Wat zijn de voordelen van Fahold Driver?

Standaard lineaire verlichting

Kosteneffectieve led driver oplossing voor industrie, commerciële en andere toepassingen

Goede kwaliteit van een led-driver met een hoog rendement om aan verschillende vereisten te voldoen

Eenvoudig te bestellen en installeren, kost minder tijd, vermindert verpakkingsafval en maakt het complexer

Flexibele oplossing
FAQ:
Vraag 1: ben je een fabriek of handelsbedrijf?
Antwoord: we zijn een fabriek.
Vraag 2: betalingstermijn?
Antwoord: 30% TT-aanbetaling + 70% TT vóór verzending, 50% TT-aanbetaling + 50% LC-saldo, flexibele betaling
kan worden onderhandeld.
Vraag 3: Wat is de hoofdactiviteit van Fahold?
Antwoord: Fahold richtte zich op LED-controllers en dimmers vanaf 2010. We hebben 28 ingenieurs die zich hebben toegewijd aan het onderzoeken en ontwikkelen van LED-besturings- en dimmingsysteem.
Vraag 4: Wat doet Fahold als we problemen hebben na ontvangst van uw producten?
Antwoord: Onze producten zijn strikt gecontroleerd voor verzending. Zodra u de producten die u niet tevreden bent ontvangen, neem dan gerust contact met ons op in de tijd, we zullen ons best doen om een ​​van uw problemen op te lossen met onze goede after-sales service.