Geïsoleerde LED Driver 50W 1.2A
Hogere aandrijfstromen zullen leiden tot meer licht van de LED, en zal ook meer watt nodig hebben om het licht uit te voeren. De meeste LED-lampjes voltage zijn 36V, HE50WU-01, is elektronische led-converter die onze daliy houshold spanning kan overdragen aan 36V. Deze niet-dimbare bestuurder is geschikt voor regelmatige ledpaneellichten, Met hoge PF en efficiëntie. meestal gebruikt in binnenverlichting applicatie.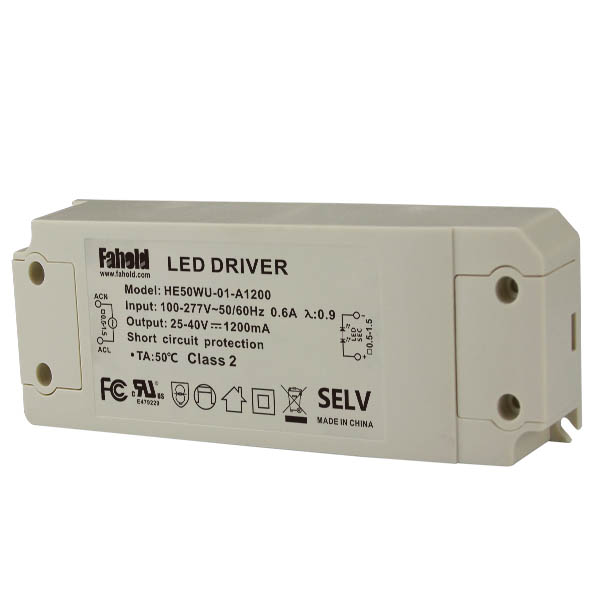 Kenmerken & Voordelen
· UL Lijst
· Hoge PFC
· Lichtgewicht
· Enkele kanaaluitgang, uitgangsstroomniveau geselecteerd door DIP SW
· Groot bereik van ingangsspanning 100VAC ~ 277VAC
· Hoge efficiëntie tot 88%
· Ingebouwde actieve PFC functie
· 100% uitgang wanneer geen dimmen signaal ingang kan worden gebruikt als normale voeding
· Beschermingen: kortsluiting.
· Geschikt voor binnenshuisverlichting
Details
Het maximale aantal LED's dat u uit één stuurprogramma kunt uitvoeren, wordt bepaald door de maximale uitgangsspanning van de stuurprogramma door de voorspanning van uw LED (s) te verdelen. HE50WU-01 is een sterke kunststof behuizing driver met een hoge PFC, ontworpen voor het gebruik met onze led driver constante huidige versie. Deze elektronische leidde converter gewaardeerd indoor behuizing gemaakt van lichtgewicht maar sterke kunststof met een Laserprinters label. led transformator bestuurder UL en kenmerken omvat voor het laag- en hoog-voltage bedrading in een schakelkast. Het beschikt over vier 0,20 inch montagegaten voor oppervlakmontage en is ontworpen met montagegatposities om de compatibele voedingen veilig te houden. De HE50WU-01 is alleen te gebruiken bij de volgende constante stroomstuurprogramma's:
· 1) 100-277Vac 25-40Vdc 500mA
· 2) 100-277Vac 25-40Vdc 750mA
· 3) 100-277Vac 25-40Vdc 1000mA
· 4) 100-277Vac 25-40Vdc 1200mA
5) 100-277Vac 25-40Vdc 1700mA
Productspecificaties:
Uitgangsspanning: 25-40V
Max. Uitgangsvermogen: 50W
Max. Uitgangsstroom: 1200mA
Afmetingen: 135X46X32 mm
Efficiëntie: 88%
Encironment / IP Rating: indoor / IP20
Max. Ingangsspanning: 277V
Certificaat: UL, FCC
Als de benodigde hoeveelheid LED drivers minder is dan een volledige spoel, bieden wij klanten veel van onze producten in panelen, lade of individuele hoeveelheden die u helpen om onnodig overschot te vermijden.
Daarnaast bieden wij onze klanten een uniek gebonden inventarisatieprogramma dat ontworpen is om potentiële problemen te elimineren die voortvloeien uit een onvoorspelbare voorraad producten die ruwe metalen bevatten en producten met lange of onregelmatige leadtijden. Praat met je dichtstbijzijnde Fahold-tak, zodat je meer kunt weten over hoe je mogelijke tekorten kan vermijden.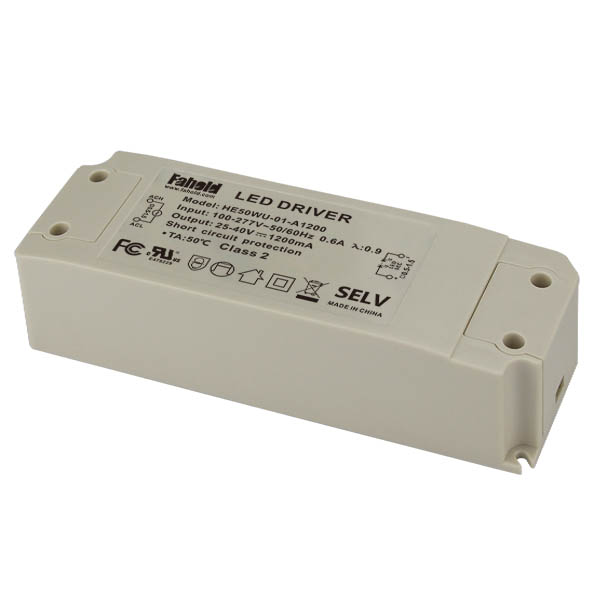 Product Categorie : Commerciële verlichting Led Driver > LED Panel Lights Driver