Een door een constante spanning geleid stuurprogramma ontvangt standaard lijnspanning (100-277VAC). Dit is het type stroom dat doorgaans wordt uitgevoerd via uw stopcontacten in en rond het huis. Constante spanningsregelaars schakelen deze wisselstroomspanning (VAC) naar een lage gelijkstroomspanning (VDC). De bestuurder houdt altijd een constante spanning aan, ongeacht de stroombelasting.
Product beschrijving :
• UL Indoor LED Driver
• Uitgangsspanning 12 V
• Max. huidige 8000mA
• Max. uitgangsvermogen 100 W
• Dimbaar via PWM / 0-10V / RX / Dali LED-dimmers
• Nominale levensduur tot 50.000 uur
• 5 jaar garantie
Typische applicatie
• Cove-verlichting, gevelaccentbelichting, plafondintegratie, lineaire verlichting.
Technische details
• 12 V, 100 W
• THD-prestaties in grootbelastingsbereik <5%
• Rimpel en ruis 0.36V pp
• Kleine doorsnede
• Push-aansluiting voor eenvoudige bedrading
Bedradingsrichtlijnen
• De kabels moeten los van de hoofdaansluitingen en worden geleid
voedingskabels om goede EMC-condities te garanderen.
• De LED-bedrading moet zo kort mogelijk worden gehouden om een ​​goede EMC te garanderen.
De max. de lengte van de secundaire kabel is 2 m (circuit van 4 m).
• De LED-driver heeft geen omgekeerde polariteitsbescherming aan de secundaire zijde.
Verkeerde polariteit kan LED-modules beschadigen zonder bescherming tegen omgekeerde polariteit.
• Verkeerde bedrading van de LED Driver kan leiden tot storing of onherstelbaar
schade.
Aarde verbinding
De aardverbinding wordt uitgevoerd als beveiligingsaarde (PE). De LED Driver kan via een metalen behuizing worden geaard. Als de LED-driver geaard is, moet beschermingsaarde (PE) worden gebruikt. Er is geen aardverbinding vereist voor de functionaliteit van de LED-driver. Er wordt een aardverbinding aanbevolen om het volgende gedrag te verbeteren :
• Elektromagnetische interferenties (EMI)
• LED brandt in standby
• Overdracht van netvoedingen naar de LED-uitgang
In het algemeen wordt aanbevolen om de LED-driver te aarden als de LED-module op geaarde armatuuronderdelen of warmteafleiders is gemonteerd en daardoor een hoge capaciteit tegen aarde vertegenwoordigt.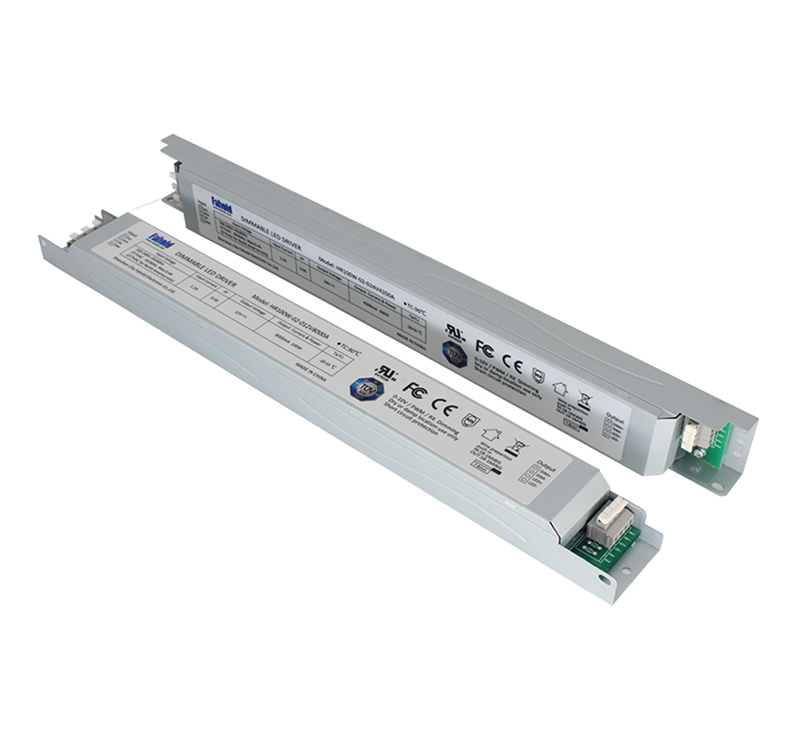 Product Categorie : Commerciële verlichting Led Driver > LED Lineaire Lights Driver