20W 500mA Flicker Free Dimmable Led Driver
Details
HW20W-02, Flicker vrije 0-10V dimbare LED Driver 500mA. Dit is een geïsoleerde, 20W, 0-10V dimbare LED driver ontwerp met> 0,9 power factor (PF) die voldoet aan of overschrijdt commerciële verlichting PF en totale harmonische vervorming (THD) eisen. Het is geschikt voor integrale LED-armaturen, of ballasts, die gebruik maken van LED-emitters met een helderheid. De units zijn geschikt voor laag wattage downlights, dimbare Led Light Bulbs .
Standaard functies van deze LED verlichtingsstuurprogramma zijn onder meer kortsluiting, overbelasting, overspanning en over temperatuur bescherming en het toestel is ontworpen om te voldoen aan TUV, EN61347-1, EN61347-2-13 en emmisions aan EN 55105, EN61547.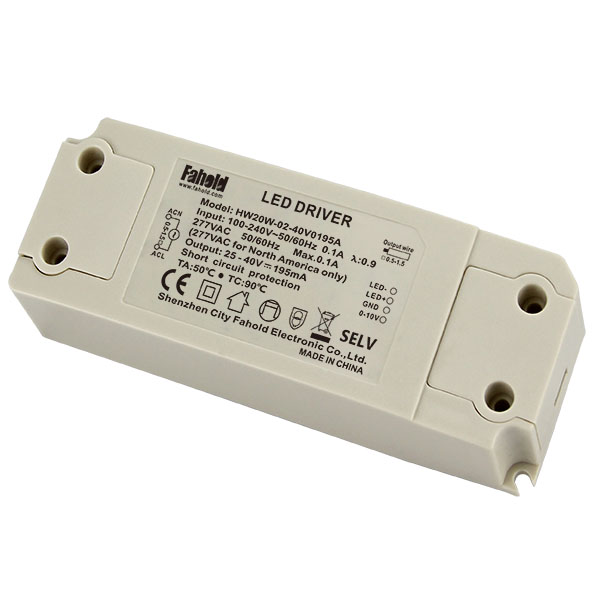 Kenmerken & Voordelen
· Hoge PFC
· Lichtgewicht
· Enkele kanaaluitgang, uitgangsstroomniveau geselecteerd door DIP SW
· Groot bereik van ingangsspanning 100VAC ~ 240VAC
· Hoog rendement tot 85%
· Ingebouwde actieve PFC functie
· 100% output dimmen signaal ingang, kan worden gebruikt als normale voeding
· Bescherming: Kortsluiting, overbelasting, overspanning en overtemperatuur beschermingen
· Geschikt voor binnenshuisverlichting
0-10v led dimmer

Productspecificaties:
Uitgangsspanning: 27-42V
Max. Uitgangsvermogen: 20W
Max. Uitgangsstroom: 500mA
Afmetingen: 115x41x26 mm
Efficiëntie: 85%
Flicker Free
Encironment / IP Rating: indoor / IP20
Max. Ingangsspanning: 240V
Certificaat: TUV, RCM, CE
HW20W-02, Flickervrij 0-10V dimbaar, Desigen voor hoge lumen geleid Downlights, Europa markt applicatie. Energiebesparende bestuurder. De behuizing werd gemaakt van Hard shell, onafhankelijk ontwerp voor de output connectie structuur, geschikt voor Europa markt.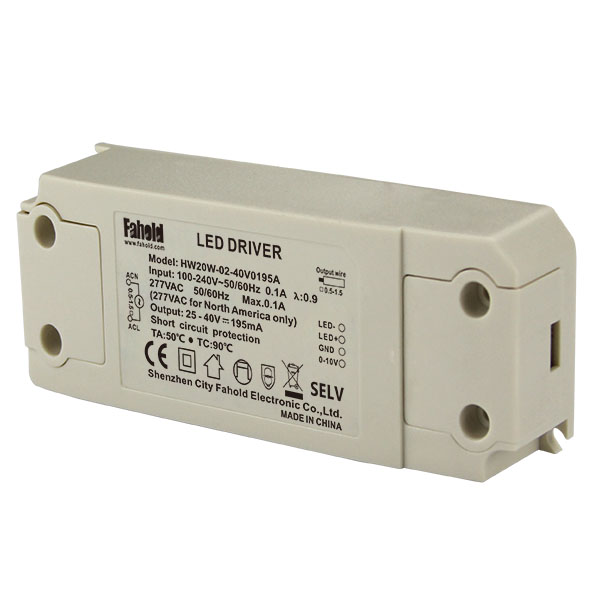 Product Categorie : Commerciële verlichting Led Driver > LED Downlights Driver